Why Study Spanish Heritage Language at the UO?
For the first time in the history of my family's lineage, our culture, identities, and language were celebrated. By connecting me with the language of my heritage, the SHL program inspired me as a first generation student, hija de inmigrante, and a mujer to believe that what I had to bring to the table was not only valuable, but an asset to academia.

— Jessy Birreute
Your Spanish is important. The Spanish Heritage Language Program (SHL) is designed specifically for students who have a personal, familial, or community connection to Spanish. In SHL courses, you learn about Spanish and Spanglish as they are used in the US and in the wider Spanish-speaking world, build on your existing knowledge of Spanish, and make meaningful connections with local Spanish-speaking communities.
Do your parents, grandparents, or other family members speak Spanish with you? ¿Te consideras bilingüe? Did you learn most of the Spanish you know outside of the classroom, such as with your family or in your community?  If so, one of our SHL courses might be right for you.
The SHL program is an initiative of the UO Department of Romance Languages to meet the needs of the changing population of our university. It is composed of a variety of courses at the undergraduate and graduate levels taught by a diverse cross-section of University of Oregon faculty.
¡Te esperamos!
SHL Placement Survey
Take the survey on your own, without the help of a dictionary. The idea is for you to write as much as you can in Spanish or Spanglish (a few sentences or a short paragraph after each prompt), so we can best advise you on which SHL class would be the best place to start.
If you already have credit for SPAN 203 or the equivalent (or higher) on your UO record, you do not need to take the placement survey. In this case, you are ready to enroll in SPAN 308.
Please note that this survey is completely different from the Spanish language placement test through the UO Testing Center, which is designed for students who have mainly learned Spanish in the classroom.
Undergraduate Programs
The department offers SHL courses at the second-, third-, and fourth-year levels. You can complete the UO language requirement and go on to earn credit toward a minor or major in Spanish, as well as satisfy requirements for other majors such as Linguistics and Latin American Studies. Recent offerings include courses on Bilingualism, Spanglish, Latinos in the US, Spanish in the US, and Border Cultures in the Americas.
Explore Majors
SHL students can choose to complete a minor or major in Spanish, or they can combine Spanish with French or Italian for a BA in Romance languages. Many upper-division SHL courses combine study of language and society with field research in the local Spanish-speaking community.
Finding a Community of Heritage Speakers
"I began to take Spanish classes as a freshman to find a community of heritage speakers. I wanted to keep practicing my Spanish and advancing my public speaking skills. I went to Spain in 2019 and loved it so much I returned to do a second program in 2021. This led me to the opportunity to work with the Spanish department and help develop an online course!"
—Melissa Torres-Duran, Spanish major, '22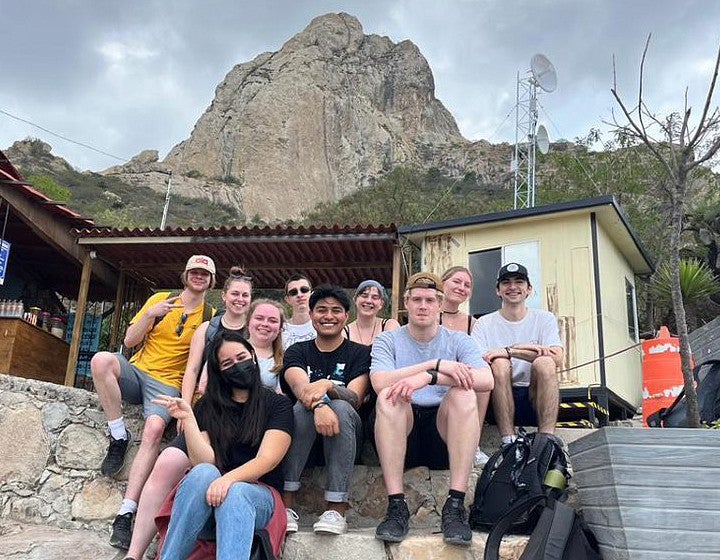 Travel and Study Around the World
Our majors and minors have the opportunity to spend one or more terms in different Spanish-speaking countries such as Ecuador, Argentina, Mexico, or Spain. The department also offers scholarships specifically for study abroad. Programs are as short as four weeks and as long as a full academic year. In addition, through the IE3 Global program, undergraduates can earn academic credit for doing a professional internship in the Spanish-speaking world.
SHL Faculty 
¡Conoce nuestro equipo!  Our excellent team of teaching professionals have specialized training to meet the educational needs of our UO Latinx student community. SHL faculty are committed to providing students with a rewarding class experience that uplifts and empowers Latinx educational excellence. We are firmly committed to creating networks and classroom communities that support our students' academic needs and overall success.
SHL faculty have expertise in the theoretical and practical issues surrounding the use of Spanish in both U.S. and global contexts. Research in sociolinguistics and specialized pedagogy for heritage language learning provides students with insights into the social dynamics of language contact in the US, bilingualism, language change, and language ideologies. Faculty collaborate with programs in Linguistics, Ethnic Studies, Latin American Studies, PPPM, the College of Education, and others.
SHL Student Leadership Program
Our vision is to empower and support Spanish heritage language (SHL) students at the University of Oregon. The SHL Leaders Program fosters connections with Spanish-speaking communities on campus and in Oregon while leaders develop professional profiles based on their unique skills and abilities. As active agents of linguistic social justice, SHL Leaders (Líderes bilingües) will promote the recognition, validation, and study of the Spanish language as it is used in the US context and in the broader Spanish-speaking world.
Meet our Líderes bilingües
SHL Líder Perfil - Jessy
SHL Líder Perfil - Yailedme
SHL Líder Perfil - Lela
Our Mission
The Spanish Heritage Language (SHL) program has as its primary mission to provide a high-quality and rewarding educational experience to Latine students on campus. We aim to value and develop Spanish language proficiency, particularly for students who grew up in a Spanish-speaking household or community. Our courses recognize, validate, and study the Spanish language as it is used in the U.S. context, as well as the continuum of English-Spanish multilingualism, with a specific focus on translingual practices. 
The SHL program also provides students with opportunities to build upon their existing linguistic and cultural knowledge and experiences; and to create meaningful connections with local Spanish-speaking communities, acknowledging how languages are used and shaped both inside and outside academia. With this mission, the SHL program aims to foster students' critical understanding of the relationships between language and power that necessarily shapes their educational, social, and professional experiences. 
We strive to accomplish our mission by meetings students' needs as heritage learners, cultivating the whole student, based on the conviction that language and identity are deeply intertwined; exploring topics related the students' cultural background; recovering or developing students' heritage linguistic abilities in both oral and written expression; and engaging student in collaborative learning both inside and outside the classroom. 
Scholarships and Funding
The Department of Romance Languages awards multiple scholarships to current undergraduate and graduate students who are declared majors or minors within the department. Learn more about available scholarships and eligibility requirements.
Academic Support
Our academic advisors can help students talk through their major or minor requirements, plan their course of study, explore study abroad opportunities, and more.
Romance Languages News and Events
All news »